Insight Out – The Naked Truth A-F
 Click any of the titles to listen to the podcast.
Apparently

What seems apparent is often a deception, depending on your point of view. Who knew?

As of yesterday, Hillary Clinton is the Democratic nominee for president and, apparently, Donald Trump will be what the Republicans are serving up to be the Commander-in-Chief of these United States.  

Apparently, this is  the best the American public can come up with to lead itself. 

So, "Apparently," seems  to be a good word to focus on as our featured phrase of the week.  I guess apparently is not really a phrase, but it still packs a wallop– as good as any phrase we've had.

​ When something is apparent, it seems to be so.  If that is the case, then I would suggest that America is coming apart at the…….. seems. Apparently, we are a fragmented culture, but as we know appearances can be deceiving.

There is so much we take for granted that seems apparent and is never questioned-apparently.  We could try to see if we can untangle the appearances from the realities of our lives.

As Socrates said, "The unexamined life is not worth living."  Apparently so

As far as I can tell, what I can tell doesn't really go very far–not as far as I'd like it, at least as far as I can tell.

As you may have noticed, there's lots of telling going on and what is being told is often very telling.

How effective is telling and once you've been told, how can you tell if what has been told has been received , acted upon, taken to heart or even…… retold?  It's hard to tell.


As far as I can tell, in most conversations there's lots more telling than listening–at least that's what's going on in my mind and with most of the people I talk with.  As a result communication starts with telling and if the message isn't received can readily escalate to yelling.

In an effort to ward off the yelling, we'll see if we can tell if telling is the best way to get our point across.

So once again, explore how to tell what truly makes a difference in our relationship to life. 

 It will be very telling what we come up with.  At least, as far as I can tell.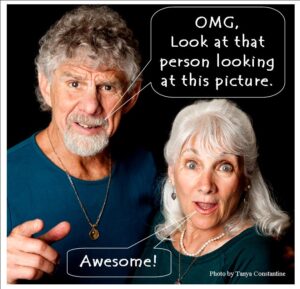 Like its predecessors, "heavy," "cool," "the bong," "awesome" has become the word to express our surprise, wonder and appreciation for what occurs.

​ While I personally reserve the use of "awesome" for events like the big bang, the speed of light, the power of love and bar b q spare ribs, I'm willing to acknowledge how anything that triggers the "awesome" reflex is probably a good thing.
On the other hand, awesome can refer to events which, though perhaps mind-boggling, are not such good things: Climate de-stabilzation, the hydrogen bomb, and at the risk of sounding partisan (God forbid) that which lives in our psyche that
could actually want Donald Trump to be our president.
At the very least, "awesome" can interrupt the familiar ho-hum and trigger a new level of amazement for that which is beyond what we might have expected.
Rochelle (THE LADY IN THE PICTURE) has wanted to highlight "awesome" as our featured phrase of the week. So, in honor of her 77th birthday, we will immerse ourselves in the "awesome-ness" of life.  Look about you and within you find insights into the nature and wonder of existence and how it applies….to you
Hopefully, you're response is,
"Awesome!
Believe it or not, not only are we once again bringing you our live radio show tonight, but "Believe It Or Not" is the featured phrase of the week. What a coincidence!

There are so many "Believe it or Not" opportunities:
The earth is round (sort of)
We evolve over 13 billion years (and counting)
"Men and women are two distinct varieties of the same species living in close and intimate association–Urantia Book)
Donald Trump could actually be president of these United States……believe it or not.

We could upgrade these and all the other options to "Better believe it" status, if you want, but suffice it to say that our credulity is constantly being stretched by life and its amazing varieties of emergent possibilities.

Now here are a couple of real "Believe it or not" challenges:

We live this very short life in the flesh and are simply re-absorbed by an indifferent and often messy material world,…………or we live eternally as evolving souls.

Here's a real show stopper, "Believe it or not:"
We can take charge of the direction of this society by joining together, being willing to confront and diffuse our ego/separating tendencies and by getting out not only the vote, but even more importantly, getting out the love. 

Believe it or not, the love is in all of us, often covered up by fear and shame, but eager to participate and support our lives. Believe it or not!

At the very least, belief is one of the strongest forces that drive our lives. Check out the podcast of "Believe it or not" as we explore what beliefs are, how they work, and to what extent we have a choice to "believe it………… or not."  

Our conversation includes humor, music, our "delightened" characters and, believe it or not ………… insights. Talk to you later,
Errol & Rochelle

https://bbsradio.com/podcast/believe-it-or-not-august-2-2016
(now officially married for 40 years–believe it or…..)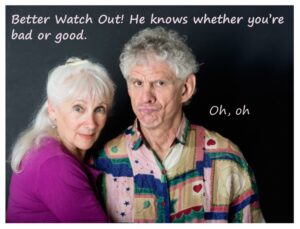 In the spirit of Christmas,"You Better Watch Out"   is the phrase of the week.
​Now, you may think that it's because a magical, mysterious know-it-all elf is coming to town, but I'm not so sure about that. I haven't believed in said elf since I was in third grade when I read Hegel and Schopenhauer.
But when I was in second grade I did believe in a magical philanthropic elf who evidently can ride a sleigh in mid-air because one Christmas I got a toy that I was sure my parents would never have gotten me.  Hence, it must be the fat, and very judgmental elf sliding down our chimney, albeit a Jewish one, who got me the unexpected Christmas gift.
And what's with this "better not cry" business?  And that cold-hearted duality, "he's knows whether you're bad or good." What a trip to lay on innocent children and all to satisfy their craving for stuff. Now, admittedly, I crave stuff, but I attribute it to the brainwashing I received as a child by the elf and his marketing minions. Yeah, it's their fault.
But you know how what goes around comes around. I believe that the elf has morphed into Amazon,  and the reindeer's–obviously UPS, USPS, the red-nosed Fedex man.
So, you better watch out, 'cause there's lots to watch out for and it's not all good…….. or bad…..whoops…see how easily it is to fall into the damn dualism.
In the meantime….. you better watch out….and you really don't need a good or even a bad reason.
Merry, Errol & Rochelle