Listen to the entire story with music by Omaran and narration by Errol & Rochelle Strider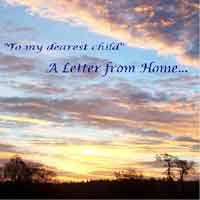 A Letter From Home
This letter can be interpreted as either a letter from a loving parent or from our Higher Power. The sentiments expressed reach in and touch the deepest longings of our hearts and remind us of just how much we are valued and needed. A perfect gift to send to loved ones… when you can't think of how to say it and you want to share your love in a truly unique way… or as a beautiful reminder to your self.
Price $9.95
Price $45.95 (Quantity of 6)
(That's only $7.65 each)
Price $69.95 (Quantity of 10)
(That's only $7.00 each)
Price $119.95 (Quantity of 20)
(That's only $6.00 each)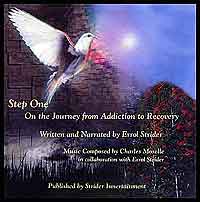 Step One

On the Journey from Addiction to Recovery
The Essential Journey Series
"Wonderful!" is not a full enough word to convey the complexity
of meaning, layer upon layer of revelation or strength of expression.
yet, I have to say, it was wonderful! This is a journey through Step One
like no other and can tap the very core of the newcomer, the old-timer
and the "in-betweenr."
"Thank you for sharing in a way few can, from the song of your heart to
the tune of ours."
Shelley Marshall, author of Day By Day and the Pocket Sponsor
"A journey from powerlessness to liberation through searing imagery
and evocative music."
In an addictive society we all are touched by the toxic effects of addiction.
This work is for people who are committed to guiding themselves or others
into recovery and healing.
"Join me on this emotional, intellectual, and spiritual experience
from breakdown to breakthrough…in a mere fifteen minutes."
Listen to a one minute sample from the cd.



Step One (mp3) 626k
| | | |
| --- | --- | --- |
| $55.80 | |  Set of 4 copies (CDs w/booklet) |
Written and narrated by Errol Strider
Music composed by Charles Moselle
Published by Strider Innertainment
Page 1
"I didn't know that I was headed for the bottom when I started
out toward the top."
Page 2
"My upward descent began with high hopes and an inflated sense
of my own importance unaware, of course, of the insolent fear waiting
to nab me to cut me down and turn my bright, engorged dreams… into
nightmares."
Page 3
"Oh, the process began innocently enough – the effervescence
of youth lining up at the salad bar of success, picking and choosing
my image as I filled up my plate with pre-sweetened, pre-fabricated
illusions of my self… with a half life of half my life."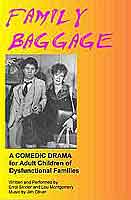 Family Baggage 
Written and performed by Errol Strider and Lou Montgomery.
An outrageous series of tragi-comedy vignettes exploring the mania and pathos of modern relationships as they are affected by growing up in addictive, dysfunctional, or otherwise nutso families. A moment in time of heart-felt hilarity, compassion, and absurdity.
Available on DVD or 2 video set
"Family Baggage" is a two act theater piece that consists of 15 scenes:
ACT ONE
"What is Co-Dependency?"
"The Coping Kit"
"Birth Order"
"The Doll"
"The Church of Co-dependency"
"Roles of Our Lives"
"I Tried So Hard"
ACT TWO
"The Chemistry and Varieties of Addiction"
"Approval, the Great Illusion"
"Without a Man: Serial Relationships"
"Hurt Protection"
"Needing to Be Needed"
"The Thrill of Control"
"The Denial of Shame"
"I'm Fine"
Select Format
Price $39.95
Single Item
---
Part 1
Scene 1: "What is Co-dependency?" (6:49)
Scene 2: "The Coping Kit" (7:32)
(Tapes: scripts, attitudes and behaviors we develop to cope with the difficulties
of life)
Scene 3: "Birth Order" (6:33)
(How the order of birth affects the roles we play in our families)
Scene 4: "The Doll (3:43)
(Sexual and emotional abuse as seen from a little child's perspective)
Scene 5: "The Church of Co-dependency" (8:30)
(Preaching the unwritten rules of the dysfunctional family)
Scene 6: "Roles of our Lives" (12:25)
( Roles, expeditions and demands we place on our spouses passed down from
generation to generation) .
Scene 7: "I Tried So Hard" (10:09)
(The pain and struggle of growing up in an alcoholic family)
Part 2
Scene 1 : "The Chemistry and Varieties of Addiction" (2:48)
Scene 2: "The Illusion of Approval " (6:22)
(The ways we try to get approval to overcome self-doubt) .
Scene 3: "Without a Man: Serial Relationships" (14:45)
(Going from one relationship to another – in the desperate search for
love – leading to a shame attack)
Scene 4: "Hurt Protection" (6:46)
(The different ways we try to protect ourselves from being hurt and rejected)
Scene 5: "Needing To Be Needed" (4:40)
(The ways we deny ourselves in order to be liked)
Scene 6: "The Thrill of control's (5:44)
(Compulsivity and control acted out during the course of a day)
Scene 7: "Denial of Shame" (6:56)
('The variety of compensations we develop to avoid dealing with our shame)
Scene 8: "I'm Fine" (6:48)
(Finding hope and inspiration for our recovery)