Have you been in a good argument lately? What about a bad one? Has an argument been presented to you that was so compelling that you were forced to say, "I can't argue with that."
Either way, or if you're just into looking at the phenomenon of arguing, this week's phrase of the week is "Can't Argue with That." should provide ample room for disagreement and……..argument. 
​
Here's a provocative line from The Urantia Book, "The argumentative defense of any proposition is inversely proportional to the truth contained."
Hmmm…can we argue with that? All of a sudden I feel like I'm in an Escher painting.
Now we could "arguably" say that Donald Trump is the most difficult president we've ever had.  On the other hand, if you asked Alexander Hamilton, he might have said that John Adams was the most difficult and challenge you to argue with that?
Then there are all of those arguments we find ourselves in and wonder how we got there, and equally important, how to get out of them with our face having been saved.
Oh my….there's just lots to argue about and lots about arguing.
So, listen in to this program as Rochelle and I stoke up a good argument until we get to the point where we just can't argue with that, and discover what that "that" needs to be in order to end the argument.
As usual we include humor, our zany characters, music, insights and surprises.
We are…..Errol & Rochelle Strider
Can't argue with that, eh?
 Click any of the titles to listen to the podcast.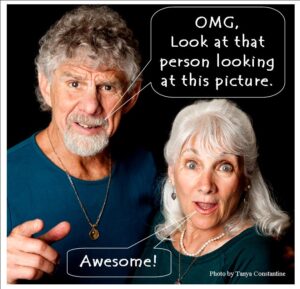 Like its predecessors, "heavy," "cool," "the bong," "awesome" has become the word to express our surprise, wonder and appreciation for what occurs.

​ While I personally reserve the use of "awesome" for events like the big bang, the speed of light, the power of love and bar b q spare ribs, I'm willing to acknowledge how anything that triggers the "awesome" reflex is probably a good thing.
On the other hand, awesome can refer to events which, though perhaps mind-boggling, are not such good things: Climate de-stabilzation, the hydrogen bomb, and at the risk of sounding partisan (God forbid) that which lives in our psyche that
could actually want Donald Trump to be our president.
At the very least, "awesome" can interrupt the familiar ho-hum and trigger a new level of amazement for that which is beyond what we might have expected.
Rochelle (THE LADY IN THE PICTURE) has wanted to highlight "awesome" as our featured phrase of the week. So, in honor of her 77th birthday, we will immerse ourselves in the "awesome-ness" of life.  Look about you and within you find insights into the nature and wonder of existence and how it applies….to you
Hopefully, you're response is,
"Awesome!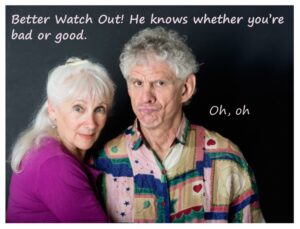 In the spirit of Christmas,"You Better Watch Out"   is the phrase of the week.
​Now, you may think that it's because a magical, mysterious know-it-all elf is coming to town, but I'm not so sure about that. I haven't believed in said elf since I was in third grade when I read Hegel and Schopenhauer.
But when I was in second grade I did believe in a magical philanthropic elf who evidently can ride a sleigh in mid-air because one Christmas I got a toy that I was sure my parents would never have gotten me.  Hence, it must be the fat, and very judgmental elf sliding down our chimney, albeit a Jewish one, who got me the unexpected Christmas gift.
And what's with this "better not cry" business?  And that cold-hearted duality, "he's knows whether you're bad or good." What a trip to lay on innocent children and all to satisfy their craving for stuff. Now, admittedly, I crave stuff, but I attribute it to the brainwashing I received as a child by the elf and his marketing minions. Yeah, it's their fault.
But you know how what goes around comes around. I believe that the elf has morphed into Amazon,  and the reindeer's–obviously UPS, USPS, the red-nosed Fedex man.
So, you better watch out, 'cause there's lots to watch out for and it's not all good…….. or bad…..whoops…see how easily it is to fall into the damn dualism.
In the meantime….. you better watch out….and you really don't need a good or even a bad reason.
Merry, Errol & Rochelle