The Laughing Heart
Strider Innertainment is an interactive entertainment duo. We combine metaphysics with education. We integrate these and synthesize, resulting in healing.
---
For a taste of "Strider Innertainment," click HERE and watch 10 minutes of excerpts from their show, "Sex, Money & God….Not Necessarily in That Order".

Written by Errol Strider and performed by Rochelle and Errol Strider.
"Highly skilled, sensitive performers… a real gift for translating abstract metaphysical concepts into charming metaphors…"

— Chicago Tribune
We draw on a variety of teachings from various traditions. These include metaphysics, psychology, and philosophy, as well as our own life long experiences. Errol and Rochelle present ideas and ideals, doing so in a way that makes them accessible, relevant, funny and poignant. We are indeed highly entertaining.
"Your presentations were without equal, not only extraordinary, but so stirring… What a wondrous power you possess!

— Michael Moore, former Mississippi Attorney General
We use our talents as comic actors, mimes and dancers. All things considered, we convey the depth and breadth of the human condition. Accordingly, the gamut of expression ranges from the absurd to the sublime. People are able to laugh at themselves. They open their hearts and recognize their spiritual potential.
"Straight on stuff…from the broadly comic to the extremely intimate with just about everything else in between."

— Hollywood Reporter
In addition, the Striders share themselves personally with their audiences. This reveals both the challenges they've faced and the insights they've discovered over the past 40 years. As marriage and business partners, creative collaborators, spiritual teachers and parents.
This is a time of great transition. All the multifarious conflicts and breakdowns point to transformation. The Laughing Heart is dedicated to assisting humanity. Those who recognize the need for change! Either as individuals, relationships, or systems.
We use metaphor, humor, story, theater, dance, mime and poetry. We provide ways to facilitate a more rapid shift. This shift then takes our audience to a newer and brighter consciousness.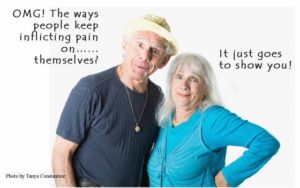 Check out Errol and Rochelle's "Naked" Insights at "Rochelle A-Musings" and "Errol's Be-Musings," which are above in the header.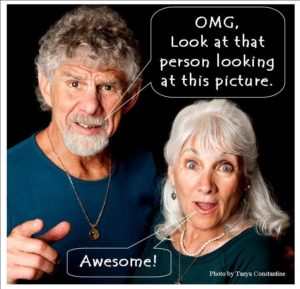 Listen to Errol and Rochelle's podcast "Insight Out–the Naked Truth." Over 200 programs are available. Just click on Podcasts in our Menu at the top of page. Then, pick which one you'd like to listen to. Sit back, relax, and enjoy the show.